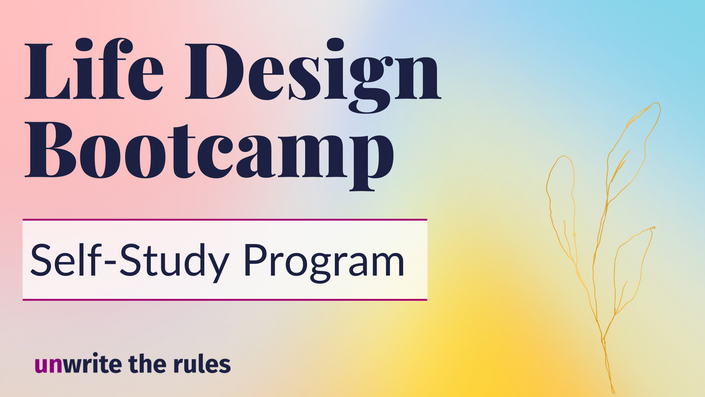 Life Design Bootcamp
A 6-week transformational journey to get unstuck, find purpose, and start living the life you were born to lead
Does any of this sound familiar?
Your life looks great from the outside, but inside you feel like there's something else you should be doing - something more
You don't exactly know what that something is, but there's a feeling deep in your stomach that it's out there somewhere
You've tried to figure it out on your own, but keep getting stuck
Yes?
Then I've got good news...
The Life Design Bootcamp will help you:

Get crystal-clear on your desire
Finally decide the right life path for you
Determine the exact next steps to make it happen
Here's What You'll Learn in the Bootcamp

How to uncover your most important values
You'll learn how to distinguish between what you feel you should be valuing, and what really resonates with your heart and soul. Chasing other people's ideals might give you the appearance of outward success, but it's only when you're being authentic to your true values that your life will really start to shine.
How to choose what to do with your life
Whether you're multi-passionate and can't decide between a million ideas, or struggling to identify even one direction that really excites you, the step-by-step process we use in the Bootcamp will give you the clarity you need.
How to get control over your negative self-talk
You'll learn how to deal with that critical voice inside your head, the one that tells you you're too fat / thin / old / young / ugly / pretty / stupid / whatever to succeed at creating an extraordinary life. (Because that voice is mean. And it's wrong.)
How to design a specific plan for your life
What's the point of knowing what to do if you don't actually do it? The Bootcamp is squarely focused on the practical, and you'll leave with a specific, detailed plan for your life that you can start implementing straight away.
How to set goals (so that you actually achieve them)
The vast majority of people go about goal-setting completely the wrong way. You'll learn the secret to setting and achieving great goals so that you can stop dreaming about changing your life and actually do it.
How to become more calm and centred
This quick-and-easy bio hack will help you slow down and focus on what's most important in the moment. Whether it's a life-altering decision or just choosing how to respond to a tricky situation.
How to stay on track when life gets in the way
Theory is lovely but real life is messy. In the Bootcamp, you'll learn strategies to stay on track even when life starts throwing you (mud-covered and kinda smelly) curve balls.
The Life Design Bootcamp is so much more than a boring list of exercises to help you
find your passion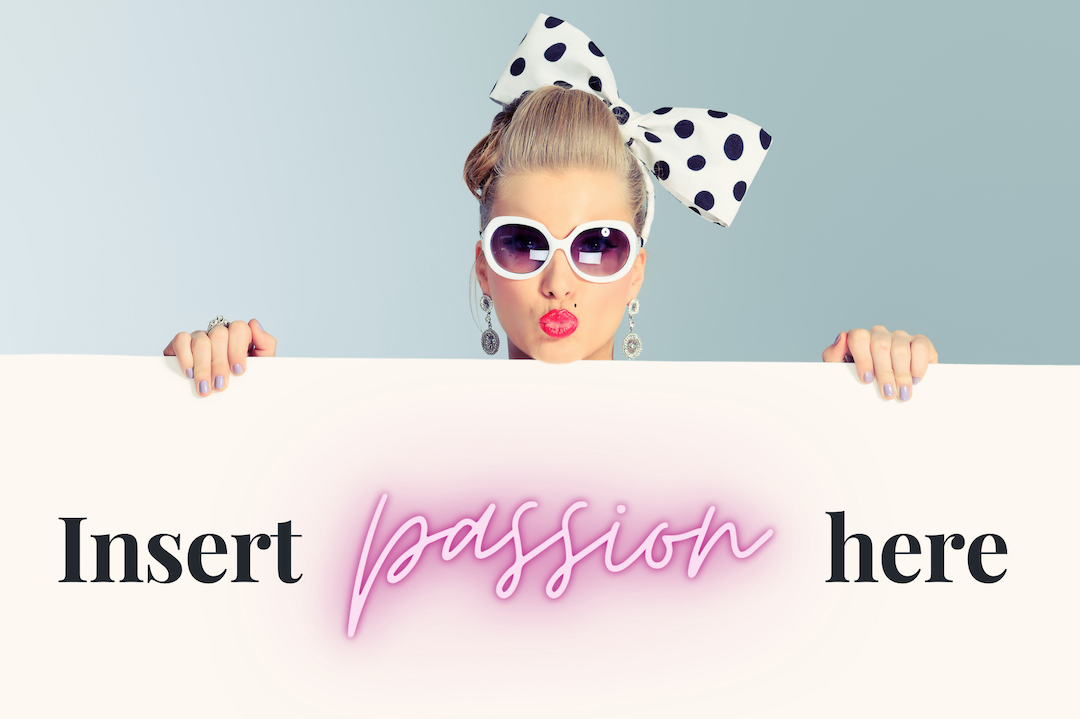 You can read as many "find your passion" books as you like, but it's not until you apply the strategies and test them on yourself, that you'll really start to move forward in creating a life that lights you up.
In the Life Design Bootcamp, we'll go a level deeper. You'll uncover the limiting beliefs and emotional blocks that may be holding you back from really flourishing and living the gorgeous life you deserve.
The biggest thing standing in your way might just be you
So let's fix that asap, my fabulous friend
You can and should live a life that lights your soul on fire!
Take a peek inside the Bootcamp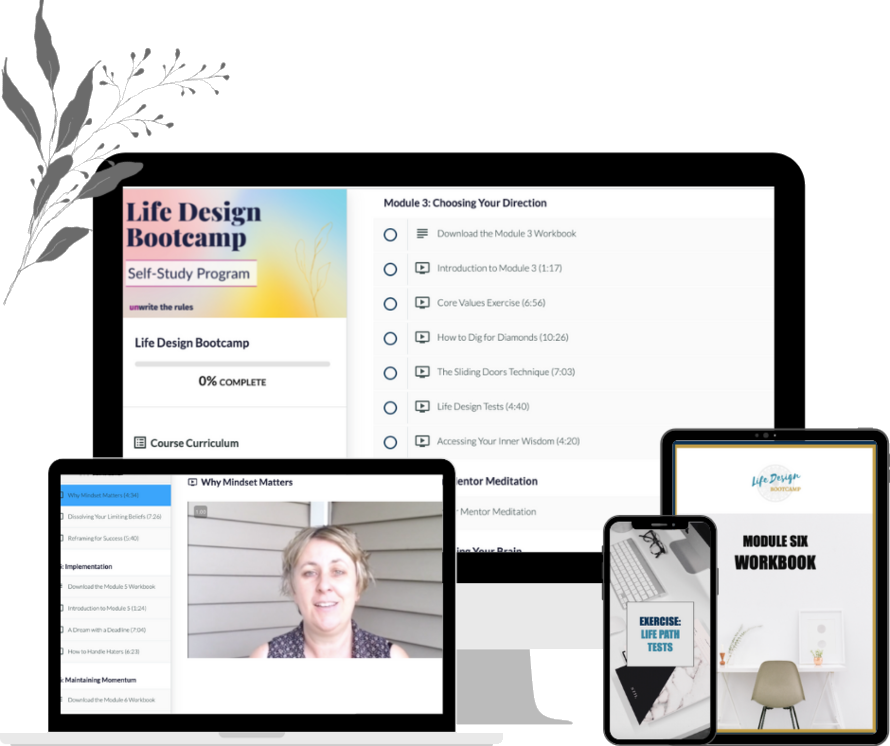 Course Curriculum
Course Overview
Available in days
days after you enroll
Module 1: Life Design 101
Available in days
days after you enroll
Bonus - The Art of Forgiveness
Available in days
days after you enroll
Why should you listen to me?

First up...great question!
I'm a rebel at heart, so to be perfectly honest I don't think you should listen to me. Or to anyone else for that matter.
I believe strongly in the value of experience.
Test things out > find what suits you > ditch the rest.
That's why this course is designed as a Bootcamp. It's less about studying and memorising facts or tactics, and more about taking practical action so you can stop dreaming about loving your life, and start enjoying it!
And that's exactly what I've done for myself and helped my clients do too.
Practicing intentional life design took me from stressed-out employee to calm and contented online business owner.
(And not a moment too soon)
You see, I'd fallen into a trap that many smart, successful women find themselves in.
By any objective measure, I had a great job. It ticked off pretty much everything you could possibly want on a dream job list.
> Regular international travel (business class, thankyouverymuch)
> Project autonomy
> Good money
> Prestige within the industry
> Work that had impact
> Beautiful office surroundings (I actually worked in a palace; for real - there was even a chandelier and a marble fireplace in my office!)
The problem was, it was making me miserable. And because I couldn't point to much that was wrong with it from the outside, I felt like there was something wrong with me for being unhappy.
So I told myself I was being ungrateful, denied my feelings and tried to convince myself they weren't real.
I was saying things like:
This job is objectively great on paper. I just have to make myself enjoy it.

Other people would kill for this opportunity, I'd be crazy to give it up.

I should be happy with what I have.

It's selfish to want more, when I'm already living such a blessed life.

I'm lucky to be doing this work. I'm a terrible person

for being so ungrateful.
(Any of those sound familiar?)

And therein lies the trap...your job or current life situation looks so good from the outside, that you feel trapped into keeping the status quo even when it's making you unhappy.

In my case, it got so bad that I developed intense anxiety. And I mean...bad.
There were plenty of days when I literally couldn't get out of bed. Or go to the grocery store. Or cook myself a decent meal. I couldn't see the point in having a shower. I couldn't do anything but lay in bed and feel helpless as waves of despair crashed over me.
As if that wasn't bad enough (and really, it was)...
A ringing telephone would spike my heart rate and send a huge lump of dread into the pit of my stomach.
I became intensely sensitive to noise and would feel overwhelmed and anxious at anything with any volume at all (did I mention I was living in London at the time? Not known for its peace and quiet).
I isolated myself from my friends and basically stopped leaving the house.
It was, quite frankly, bloody awful.
And it got that bad because I refused to listen to the yearning I had inside me, that feeling in my gut that I was supposed to be doing something else.
I kept trying to convince myself that everything was fine (when it clearly wasn't) and it eventually blew up in my face.

Here's a truth bomb that I learned the hard way:
If you're not living authentic to your true self, then there's nothing you can do that will make the existential angst go away.
Literally nothing.

(And I should know, I tried all the things.)
Once I decided to accept who I am, take control of my life and create my own destiny, everything changed.
These days I travel the world and the work I do is heart-centred and led by a passion to help women create a wildly profitable online business that sets their soul on fire.
I'm exactly where I want to be.

> I've created a life that's aligned, that matches who I really am inside
> My work gives me energy instead of sapping it away
> There's no more wondering what I'm here to do - I have a clear direction and know what I need to do next
(I even woke up the other day and felt disappointed when I realised it was Sunday and not Monday. TRUE STORY.)

And now I want to help you create your ideal life too.

Because I believe that the person you've been in the past doesn't have to rule your life in the present and the future.
My mission is to help you skip the years and years of trial and error and expensive mistakes that it took me to finally start living true to myself.

You can and should be living a life that rocks your socks off every day!
There's a reason we all come in different shapes, sizes, colours...because we all have something different to add to the world.
Every one of us has unique gifts and talents, and I believe it's our job to embrace them and figure out how best to use them.
Even if that means choosing a life that's different to the one that other people want for us.
You owe it to the world to show up as the real you...the person inside that you were born to be.
Don't let fear or confusion about next steps stop you from being the blazing comet of infinite brilliance that you know deep down that you really are.
Is the Bootcamp right for me?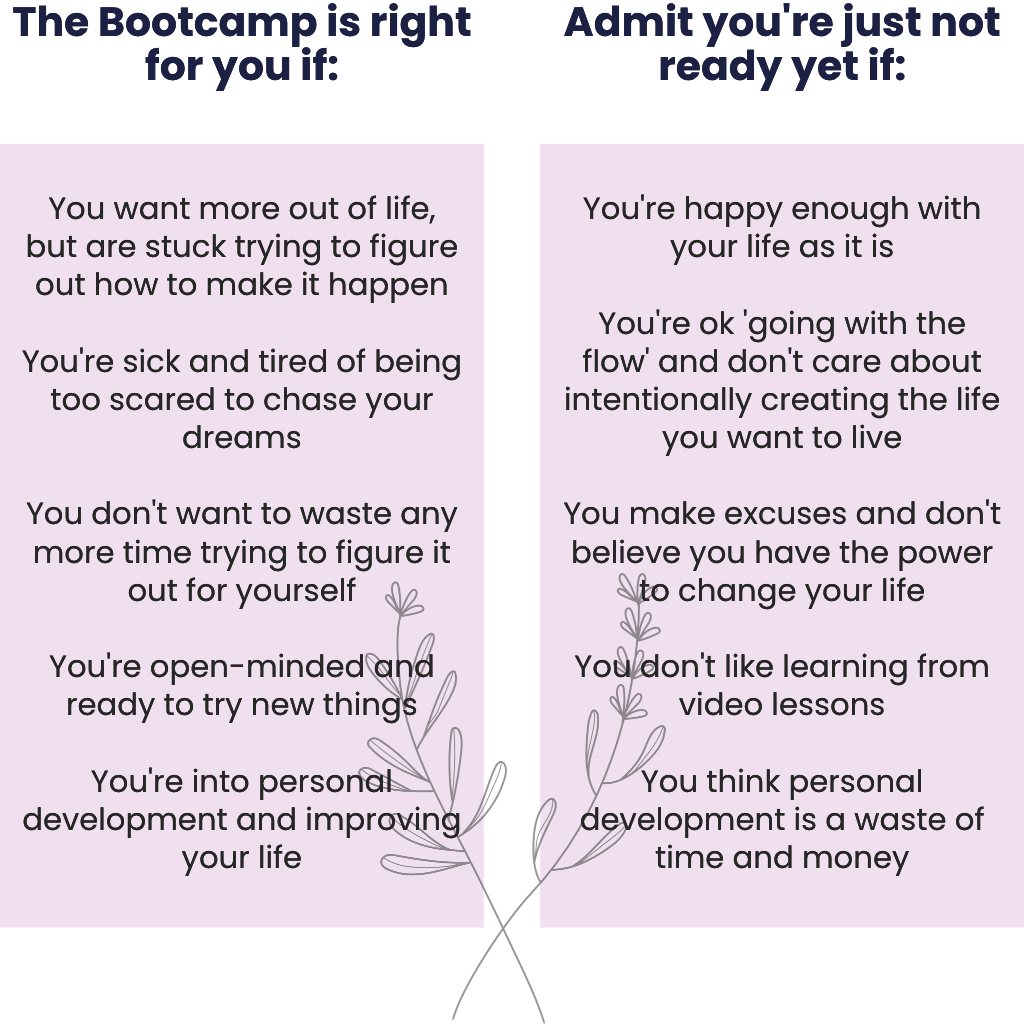 You might have heard the saying:

If you do what you've always done, you'll get what you've always got.
It makes sense, right? If you want to send your life off in a different direction, then you have to do something different to what you've done up until now to make that happen.
If you're feeling called to join the Life Design Bootcamp, then now's the time to do take that step and make change happen.

Working with Trish has been amazing. Firstly I did her course, and learnt so much. It was jam packed with useful content and set out in such a way that I could work through it easily, at my speed, and not feel overwhelmed. By the time I finished that I felt so much more confident about my business, and what I wanted to achieve.
Once I'd completed that I realised I needed more Trish help so I then went on to have her coach me. Her experience, expertise and affirmative yet goal-specific style is just what my business, and my book launch, needed. I'm now about to launch and there's no way I could have achieved all of this without her. I highly recommend this lady and having her become a virtual part of any business!"
- Angela P, United Kingdom

I'd never heard of Ho'oponopono before! Clearing the blocks and identifying my core values paved the way to discovering what fulfils me. Finally I feel on the right track. I'm acting with purpose to my own unique vision. I am truly grateful for the gift of Life Design Bootcamp and I look forward to continuing my journey with Trish.
- Katie J, Bali
Want bonuses? Of course we've got bonuses...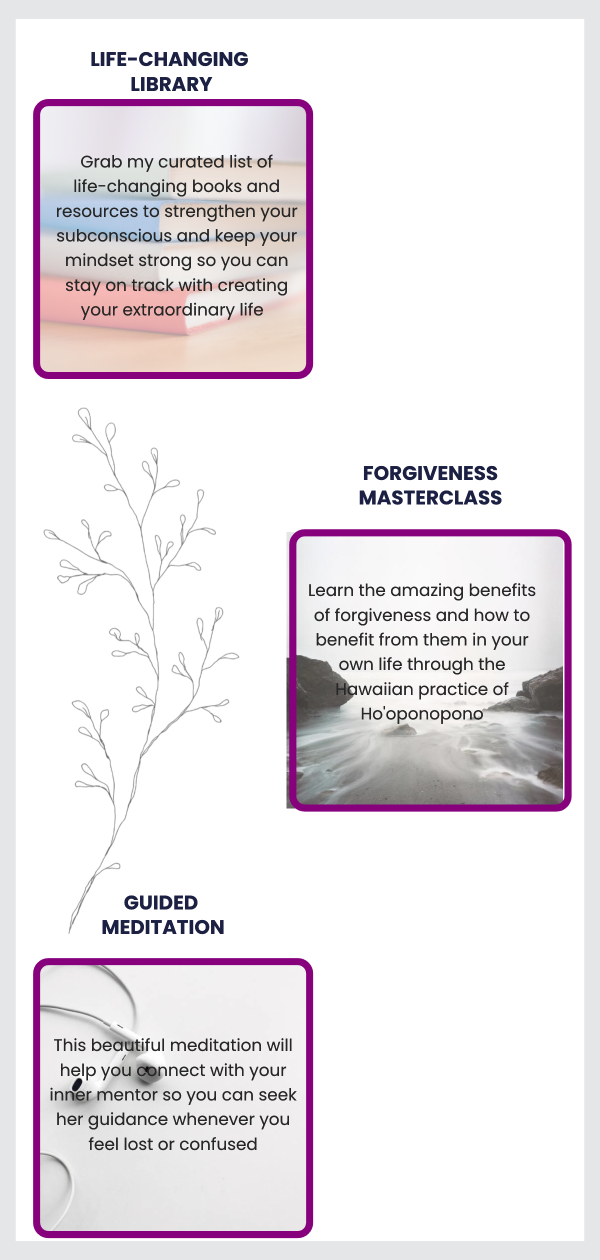 I have always been one who was doing 'okay'. My job was 'fine' and there wasn't really anything I felt I had the right to complain about. Yet, deep down I knew something was missing. Taking this course re-invigorated my inner thoughts and feelings of what truly makes me happy. Why can't I have the life that I dream of? Why can't I be one of those people who wake up and look forward to the day?
The course allows you to not only uncover and learn more about yourself, but gives you insight into working out the steps you can take towards creating a life you love. Don't get me wrong, you do have to the work and there's no one size fits all but through the course and all the supportive ladies in the facebook group you have the best chance of success!
- Joann M, New Zealand
The exercise that made me delve into my past packed an emotional punch but really helped me get rid of old ghosts. I feel much more confident going ahead now, and the course helped me re-route my thinking pattern so I could plan my future in a more productive way.
- Rachel D, Ireland
Here's a reminder of what you'll get inside the Bootcamp:

Full Online Curriculum
27 Video Training Modules
Audio versions for those who prefer to learn on the go (coming soon)
Exercises and worksheets so you can take practical action every single week
Inspiring bonus videos, case studies, meditations and extra reading lists so you can keep high vibe and stay motivated about the life-changing process before you.
Private Members Portal
This is where you'll view or download your video and audio training, pdf workbooks, checklists, worksheets and bonus videos at a time that's convenient to you.
Lifetime Access
You'll keep access to all the Bootcamp material for the lifetime of the programme AND you'll get any future updates (for free).
Long story short (...too late?):
You're getting everything you need to unlock your inner purpose and create a life you love.
Which means you could be just minutes away from starting to uplevel your life and unlock the abundance of possibility waiting for you.
YAY!!!
It's time to reconnect with that bright, shining soul who lives deep inside you (spoilers: she's brilliant) and let her guide you to create a life that's full of more energy, adventure, opportunity and straight up joy then you ever dreamed was possible.
Courses Included with Purchase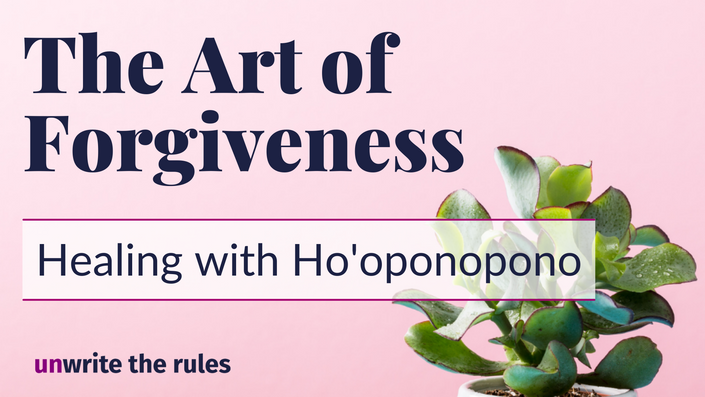 The Art of Forgiveness | Workshop
Access the power of forgiveness to gain freedom from hurt, anger and resentment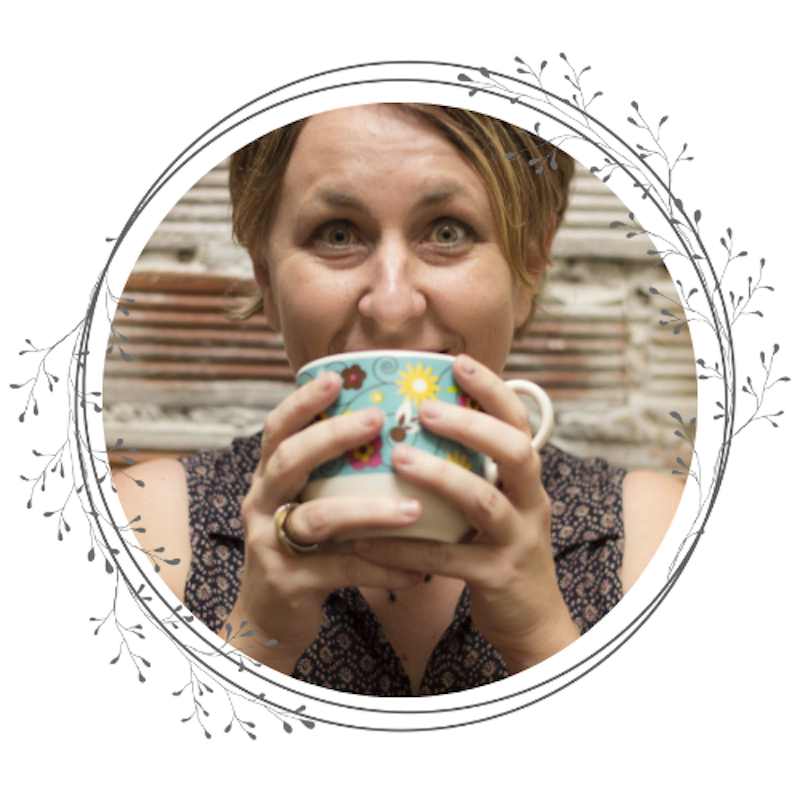 $22
Original Price: $22
When you enrol in the Bootcamp, you'll get complimentary access to a 25-minute workshop that takes you step-by-step through the Hawaiian forgiveness ritual known as Ho'oponopono.
This bonus workshop will help you:
Release the pain, anger and resentment that's been holding you back from moving forward and fully enjoying your life
Lighten the burden of emotional baggage that's been weighing you down
Understand the scientifically-proven benefits of forgiveness as a healing technique
Transform the way you deal with hurt, betrayal and emotional pain in the future
The Healing Through Ho'oponopono workshop is completely free for all Life Design Bootcamp students (and spoilers - you'll also be using it as you work through the Bootcamp).
Here's the thing...

You don't need to settle for an unfulfilling life that's just good enough.
You know you're meant to feel more, there's something bigger inside you, and you owe it to yourself and the world to let it out.
Join the Life Design Bootcamp today and start to bring your dreams to life
Frequently Asked Questions
When does the course start and finish?
The course starts now and never ends! It is a completely self-paced online course - you decide when you start and when you finish.
How long do I have access to the course?
How does lifetime access sound? After you enrol you'll have unlimited access to this course for as long as you like - across any and all devices you own.
What is your refund policy?
We'd never want you to be unhappy! If you're not satisfied with your purchase, just contact us in the first 30 days, send in your completed workbooks to prove you've given it a go and we'll give you a full refund.
How long does the course take to complete?
This is transformational work, so you'll need some time to absorb the lessons and feel the impact from the actions you're taking. You'll have a new module opened up every week (ish), so the fastest time you could complete the whole course is 6 weeks.
What if I want to fast track and finish the course more quickly?
First, I love your enthusiasm! Second, we really don't advise completing the material faster than the rate it's opened up for you. This is transformational work, and you need time to absorb and process what's coming up for you. Having said that, you know what's best for you. So if really feel like you'd benefit from having access to future modules then just send a message to
[email protected]
and we'll sort it out for you. (In the interest of fairness, this option is only available once the refund period has expired)
So if you're ready to
take control of your destiny,
confidently decide your next steps,
and move forward knowing that
you're on the right path
I'd love to see you inside the Bootcamp!
Your Instructor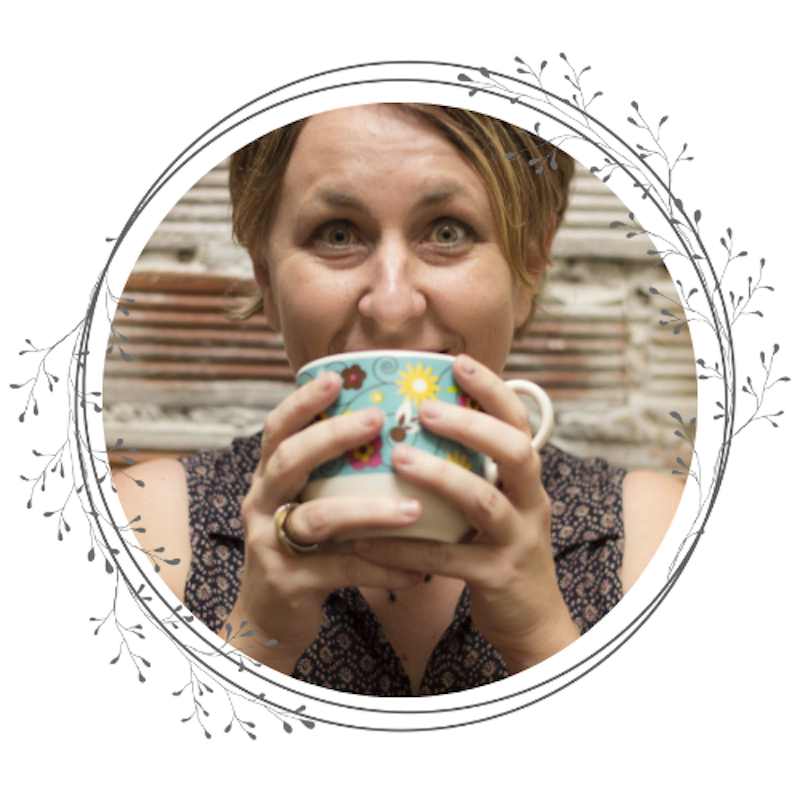 Trish is a former diplomat and off-the-scales introvert who traded in a respectable international career for the life of a globe-trotting nomad. Now she's made it her mission to show other women that growing a lifestyle business online is the best way to gain the freedom and financial independence your soul is screaming out for.
A financial feminist, Trish is determined to help women shed the shame around wanting more money. Her introvert-friendly framework for online business growth is designed to help you reach your income goals without selling your soul.
---
If you're looking for introvert-friendly advice on how to create your dream business and be an all-round happier human, visit UnWriteTheRules.com or subscribe to our YouTube channel.
Knowing yourself is the beginning of all wisdom - Aristotle